V.I.I. is committed to delivering the most convenient and effective professional interpreter training programs. You will learn at your own pace, in your own environment with our courses guiding you every step of the way.
We have created our interpreter training programs with your busy life in mind. Most V.I.I. students work full time jobs, have families and full lives. We also know that everyone learns differently. Our programs take that into account and provide you with feedback and chances to evaluate your progress every step of the way. V.I.I.'s programs are:
Affordable. You can train for a new career at a price that won't break your budget. Everything you need is at your fingertips with our online course.
Convenient. Our online classroom is the ultimate in convenience. There's no commute to classes, no need to rearrange your schedule. Study where and when you choose, and still have time for your family and job.
Supported. Even though you learn at home, you're never alone. You can be assured of getting all the help you need from our dedicated staff when you need it.
There's never been a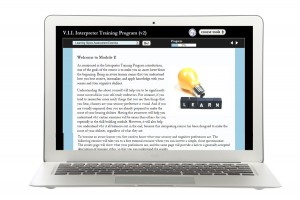 better time to start working toward a new career. You can start immediately – Sign up today!
If you are an employer of interpreters/linguists – V.I.I. offers applications that will improve your efficiency and increase your resource pool.
V.I.I.'s courses are also fully accessible for visually impaired individuals, and have been developed with all types of learners in mind.
…All from the comfort and convenience of your own computer! Enroll now.