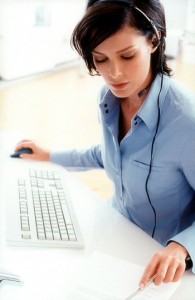 Virginia Institute of Interpreting (V.I.I.) is your resource for superior, reliable training and qualified interpreters/linguists for your company.
Until now, users of interpreters such as Language Services Providers, professional services firms, and government offices haven't had access to a pool of standardized foundational training in interpreting. To complicate matters more, issues such as IRS compliance hinder the ability for companies to offer internal training to contractors, leaving many without a viable option for adding new qualified interpreters/linguists.
With V.I.I.'s courses, your company can refer potential contractors to receive training, keeping your company compliant with IRS regulations as well as benefiting from standardized training. Additionally, you can contact the Virginia Institute of Interpreting directly to recruit new interpreters. As students complete training, they will be made available for hire via the Institute's searchable database through a partnering program.
Access to newly trained individuals will give you a competitive edge when recruiting interpreters/linguists.  Also, our interpreter/linguist training includes language fluency tests in which the results are measured using the Interagency Language Roundtable scale. Therefore, when you recruit a graduate of Virginia Institute, you can rest assured that these linguists have already met the necessary criteria that will make your recruitment process smoother and a lot less costly.
Contact us today to see how we can become a training/recruiting partner for your interpreter/linguist needs.